My pride and joy is the instrument shown below; a built-to-the-hilt "Theremax" by PaIA Electronics. You can see the Theremax board at the front-left corner. Notice that it's mounted upside down; this is because I prefer to have pitch control on the left, and articulation (volume control) on the right. Perhaps that's because I'm also a right-handed guitarist; in any case, it just seems more natural to me that way.

Note also the shielding around the RF oscillators. This reduced the interaction between them, allowing even low bass notes to be stable. The circuit also incorporates other mods, including 8ba and 15ba octave injection with separate level controls (rather like organ stops), documented in the Theremax mods page.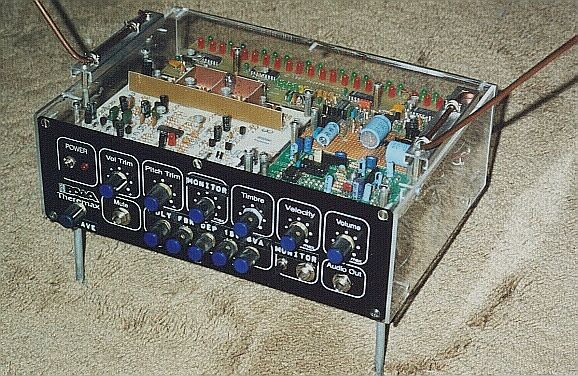 Of course, no modern theremin would be complete without a Dis*Player, which you see built into the clear plexiglas case along the far edge. This makes it a lot easier to play in some semblance of standard tuning, since the visual feedback helps you land on the right note... at the right time!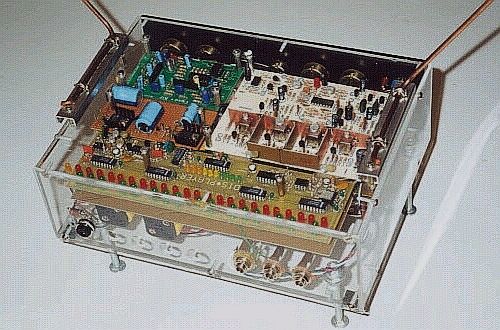 Built onto a piece of perfboard is a combination power supply and audio amplifier, built around a TDA2030 8-watt amplifier IC. A four-inch internal bottom-fired speaker (not visible) serves as a local monitor; monitoring can be either constant- level (so you can tune a certain note before bringing up the volume to the main PA) or "as played,", or off entirely, as selected with a front-panel switch. The monitor also has its own local volume control. A built-in rechargeable NiCd battery pack rounds out the stuff under the hood.